5 Ways to Make Your Home the Perfect Space for Entertaining Your Guests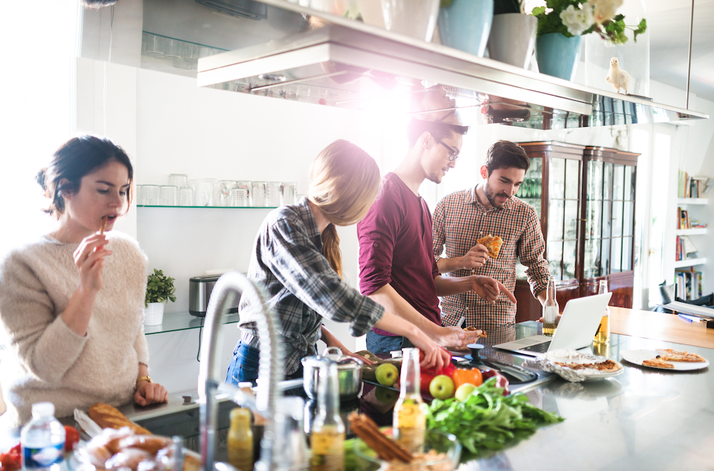 One reason we get a home in the first place is to be able to entertain guests and family. When we look back years later, we rarely remember the nights when we sat on the couch watching episodes of Seinfeld. Instead, we remember the parties and get-togethers in our homes that brought the space to life.
Here are 5 things you can do to make your home an ideal place for guests and to help make the memories of your parties even more wonderful.
Add a guest bathroom
This might seem like an unnecessary addition to the house, but a guest bathroom is great for you and your guests. When you have a dinner party, you won't need to worry about putting away everything you have on the counter of the master bath. Guests will have a space they can use that doesn't make them feel like they're invading your personal space. And you won't have those creepy guests snooping through your medicine cabinet.
Provide lots of flexible seating
The right living room furniture can make it easy to entertain a large or small group. Couches, love seats, and chairs make a living room comfortable for groups of two to ten. An open floor plan in the living room also makes it much easier to add seating as needed. Creating a space that helps your guests speak to each other without needing to shout across a room or sit in each other's laps will help to make your house the perfect place to entertain.
Install easy lighting
Again here, flexibility is key. Dimmable lights that can transform from bright to mood lighting can help adapt the space to the needs of the group. If everyone is watching a game or a movie, lowered lights are great. If it's an informal dinner party, your guests will want to see what they're eating and to whom they're speaking in brighter lighting. The best-lit rooms use different types of lights, from recessed ceiling lights to table lamps to soft accent lights, allowing you to convert the room to fit the mood of the event.
Create adaptable dining spaces
Your dining room doesn't need to be a formal sit-down dinner space. A nice kitchen table that expands when needed can make it easy for guests to talk and mingle, while you and others prepare food and drinks. The days of formal dining rooms have passed. Many modern homes don't even have a dining space. An open kitchen with a sit-down bar/counter and a kitchen table can be perfect for groups of any size and even for the most formal events.
Present a great entryway
The home's entryway is the practical place where coats are hung and shoes are dropped. An entryway for entertaining, though, should go further with lots of hooks for coats and jackets, a place to sit to take shoes off, and lots of lights. The best entryways are places where a small group can gather, greet, hug, and say hello or goodnight. Most importantly, your entryway should be warm and welcoming, a place that invites guests to come further into the house and enjoy your hospitality.
Creating a wonderful home for entertaining isn't really any different from creating a comfortable space for yourself. The biggest key is to be sure that the spaces, from the living room to the dining room, can handle groups that range in size and events that range in intimacy.